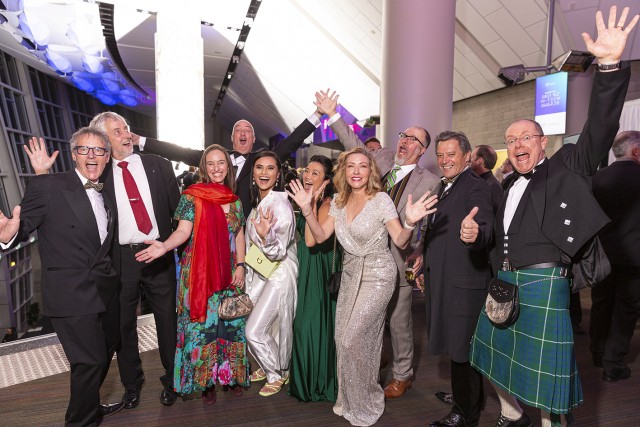 A NZ Hi-Tech Award is one of the technology sector's most sought-after accolades. They have been awarded over the years to New Zealand's most successful high-tech companies, and highest achieving individuals.
---
The VSI Electronics Excellence Awards were launched in 1994 to reward the success of New Zealand's growing technology sector and help give the industry a voice. They have since evolved into the NZ Hi-Tech Awards, becoming a platform for all of our technology industries: ICT, electronics, software, biotechnology, creative, telecommunications and digital media.
The Awards programme, administered by the NZ Hi-Tech Trust, promotes the sector as a leading contributor to New Zealand's economy and export success, and enjoys the support and input of our highly successful technology industries.
The Awards
The NZ Hi-Tech Awards celebrate New Zealand's most successful high-tech companies and highest achieving individuals. Originally launched in 1994 as the VSI Electronics Excellence Awards, they have since evolved into a platform for recognising the best all of our technology industries: ICT, electronics, software, biotechnology, creative, telecommunications and digital media.
The year-long Awards calendar has several events that showcase and provide networking opportunities for New Zealand technology companies. We hope to put talented Kiwis well and truly in the spotlight, promote our high-tech successes, and extend our profile beyond the technology sector.
Winners include
Companies such as:

Fisher & Paykel Healthcare
Serko
Pushpay
Vend
Timely
Latipay
RedShield Security
Biolytix
Orion Health/HealthOne
Shotover Camera Systems
Compac
Adherium
oDocs Eye Care
Endace
Xero
Rakon
90 Seconds
Tait Electronics

Individuals such as:

Craig Hudson
Dr. Michelle Dickinson
Aliesha Staples
Sam Morgan
Sir Angus Tait
Rod Drury
Sir Neville Jordan
Selwyn Pellett
Sir Ian Taylor
Dennis Chapman
Sir Peter Maire
Sir Gil Simpson
Paul Hargreaves
Brent Robinson
Sir Ken Stevens
Bill Buckley
An industry snapshot
The New Zealand technology sector is the fastest growing sector in the country with almost 29,000 companies generating close to $9 billion in revenue.
The hi-tech industry is the third largest export earner in the country, generating over $6.3 billion in export revenue in the 2015-16 financial year.
It comprises of almost 29,000 New Zealand companies across the electronics, software, telecommunications, creative technology and biotechnology sectors.
The industry employs more than 57,000 people and the sector is growing at twice the rate of the economy as a whole. An increasing number of companies are listing on the stock exchange both locally and internationally.
The NZ Hi-Tech Trust
The NZ Hi-Tech Trust was established in 2009 to advance the growth and success of New Zealand's hi-tech industries through an awards and education programme.
All profits generated by the Awards programme are reinvested by Trust to ensure the continuance of the programme and to benefit the long-term development of the industries it supports.
The current trustees are:
In his 'day job', David Downs the CEO of New Zealand Story, working to enhance New Zealand's reputation beyond natural beauty. David has also held various roles at NZTE, in the Services, Customer, and Corporate Services teams. David spent 13 years at Microsoft, in New Zealand and as regional director for South-East Asia, and has set up and run successful businesses of his own.

David is a published author on New Zealand Innovation, with three highly successful books – Silver Linings, No.8 Re-wired, and No.8 Recharged. He's an ex-comedian, TV and Radio actor, and a genetically modified organism who documented his battle with cancer in the popular column 'A Mild Touch of the Cancer' on NZ's Stuff. David regularly presents and gives talks on his cancer journey, and recently appeared with Phil Keoghan on his web series 'BUCKiT' on the power of positive thinking and optimism.
Sir Ian Taylor (The Flying Kiwi representative to the Hi-Tech Trust)
Inspired by the changing world around him, Ian Taylor is well known for his huge impact on the technology sector in New Zealand and abroad. He founded Taylormade Media in 1989 and later established Animations Research Ltd - responsible for the international shift in 3D computer graphic technology. Later, Ian and his team partnered with Terrabyte to lead the revolutionary real-time Internet streaming of the America's Cup, with Ian's 3D Graphics package model.
Ian took out the the Hi-Tech Flying Kiwi Award 2008, was named North and South Magazine's New Zealander of the Year 2010 and Outstanding Maori Business Leader of the Year 2013. He has been awarded an Honorary Fellowship of the NZ Computer Society, appointed a Companion of the New Zealand Order of Merit and won the Creative Sector of the World Class New Zealand Awards.
Rob is a passionate believer in technology as an enabler for bringing about positive change in the world. He has 20 years senior executive and governance experience in technology growth companies, especially in the areas of digital, mobile, media and fintech. He has spent his career working in many different markets, including New Zealand, Australia and the UK/Europe leading successful pioneering technology growth companies - from start-ups to corporates.
Rob is presently Chief Executive of Belong and was recognised as a "World Class New Zealander" by KEA in 2013.
Dr Andrew West specialises in investing in and governing or managing high technology start-ups, mainly with a green or bio technology specialisation, including being Managing Director of Synthase Biotech (a life-extending recombinant enzyme), Chairman of Ligar Ltd (high value or polluting molecules and heavy metals extraction technology), Chairman of Aquafortus Technologies Ltd (extremely low energy water and alcohol extraction technology, and zero liquid discharge technology), Chairman of Lanaco Ltd (wool-based air-filtration technology), a director of Bioceta Ltd (anaerobic digestion) and a director of Humble Bee Ltd (natural polymers). He is also a founding General Partner of the Matū Fund that invests in NZ-based high tech start-ups at pre-seed and seed stage.
Andrew is a scientist who holds a PhD in microbial ecology with many international publications. Over 17 years he was Vice-Chancellor of Lincoln University, Chief Executive of AgResearch, founding Executive Chairman of the Tertiary Education Commission, Chief Executive of the NZ Qualifications Authority and Chief Executive of GNS Science. Previously he led the reform of New Zealand's public science system and then its tertiary education system.
Neil currently wears a few different 'hats' in the NZ technology sector. His main role is as General Manager for Canterbury Tech, an active regional cluster of technology companies based in Christchurch. He also chairs some advisory boards, advises tech start-ups via various accelerator programmes, does a bit of angel investing and generally tries to make himself useful across the sector.
His 30-year wiggly career path has so far traversed electronics, software development, IT, management and governance in the UK, US, Australia, New Zealand and South-East Asia. He has established a number of his own companies, worked with various founders to grow their companies, and has also carried-out major strategy & delivery engagements for some of NZ's largest companies.
He is keen to see NZ Inc more fully utilise R&D and technology as the keys to our future success as a country. We also need to get better at telling our stories, acknowledging success, educating and inspiring our rangitahi, and bulldozing the digital divide.
Marian Johnson has been leading the Ministry of Awesome team since 2017 helping to drive a dynamic startup and innovation ecosystem that will power NZ's future success. In 2019, she led the establishment of the high growth startup incubator - Te Ōhaka - Centre for Growth & Innovation - in partnership with the Ara Institute of Canterbury and ChristchurchNZ. The incubator is home to around 30 early stage startups in central city Christchurch.
Marian is deeply passionate about engineering the serendipity required for a dynamic startup and innovation ecosystem - driving collaboration between founders, investors, government, talent, and corporates. Previous to her role at Ministry of Awesome, Marian spent 15 years developing and executing business growth strategies for tech startups in NZ as well as with Universal Studios and Discovery Networks in the US and Europe.
Mike O'Donnell is a professional director, writer and advisor with a focus on digital empowerment.
He is chair of FinTech PaySauce, chair of Garage Project Brewery and Deputy Chair of global music company Serato. He's also a director of fund manager KiwiWealth, tourism marketing agency Tourism New Zealand, IP marketing company G2G Knowhow, Radio New Zealand and www.realestate.co.nz . Mike is an independent weekly business columnist for Stuff Media and host of Television show Start Me Up.
He was previously Chair of Timely, COO of Trade Me, CRO at vWork, Head of Wholesale Investment at Gareth Morgan Investments and Head of Distribution at AMP Capital Investors.
Mandy is Z's Chief Digital Officer, responsible for leading the charge towards a digital-first and data-driven future, and providing leadership for Z's Digital function. Mandy has an executive background in financial, operations and technology roles, including as Chief Operating Officer at NZX, and has been a member of faculty at US-based Singularity University since 2016.
Mandy is a New Zealand Institute of Directors and New Zealand Global Women member.
Sarah is the CEO and co-owner of United Machinists, which manufactures components and assemblies for Australasia's leading aerospace, medical, marine, defence, and cinematography companies.
Sarah is an active angel investor, mentor, Chartered Professional Director, a founding Director of regional engineering collective SOREC; and former Chair of Mainland Angel Investors and Startup Dunedin. She is actively involved in industry working groups and committees such as Advanced Manufacturing Aotearoa, Hanga-Aro-Rau, the Workforce Development Council, the New Zealand Defence Industry Association, and Callaghan Innovation's Industry 4.0 Network.
Sarah founded her first company, Immersion Marketing, at 28, following an early career within the investment banking and commercial property sectors in NZ and Australia.
Amber Taylor is Co-Founder and CEO of ARA Journeys, a SaaS and mobile games company that blends the digital world with te taiao and te ao Māori. Inspired by and drawing on mātauranga Māori, ARA's award-winning games use AR, MR, XR, and AI to promote connection, education, and exploration. Amber is a business mentor with the NZ Business Mentor Association and NZ Tech Women, a Young Business Leaders Initiative member with the Ministry for Foreign Affairs & Trade, and a 2003 Te Hapori Matihiko - Innovator Tipu Award recipient. Amber and Sarah join existing trustees David Downs (Chair), Rob Ellis (Secretary), Marian Johnson (Treasurer), Mandy Simpson, Mike O'Donnell, Neil Hamilton, Dr Andy West, and Sir Ian Taylor as trustees of the NZ Hi-Tech Trust.
Previous Trustees
Al Monro
Alan Crofts
Andrew Plimmer
Apenti Eruera Taman
Bennett Medary
Brett O'Riley
Chip Dawson
Dennis Chapman
Don Rae
Dorenda Britten
Erin Wansbrough
Helen Shorthouse
Jane Smallfield
Jen Rutherford
Jenny Morel
John Blackham
Julia Arnott-Neenee
Kirsty Godfrey-Billy
Kjesten Wiig
Marion Rogers
Michelle Sharp
Neil Butler
Owen Scott
Ross Peat
Sathya Ashok
Selwyn Feary
Selwyn Pellett
Sir Neville Jordan
Vaughan Fergusson
Vic Crone
Wayne Hudson
Wayne Norrie