Tait Communications Hi-Tech Hall of Fame - Flying Kiwi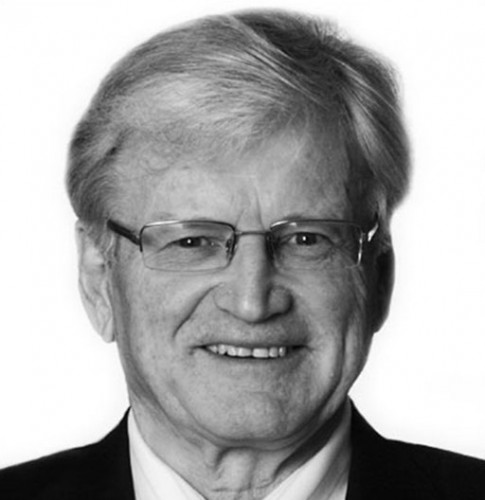 Sir William Gallagher
Sir William Gallagher – Flying Kiwi 2007
Honours Awards
Knight Companion of the New Zealand Order of Merit - 2011
Lifetime Achievement Award from The New Zealand Dairy Industry Awards Trust for his contribution to the dairy sector - 2011
Inducted into the National Business Review Business Hall of Fame - 2004
Ernst & Young Entrepreneur of the Year - 2003
Fellow of the New Zealand Institute of Management and Honorary Fellow of Waikato Institute of Technology - 2002
New Zealand Order of Merit (CNZM) - 1998
Excellence in Communication Leadership award in (the first time this awarded outside North America since its launch in 1961) - 1996
Queen's Medal (Commonwealth) - 1990
MBE - 1987
More than 70 years ago Bill Gallagher's father, Bill senior, who was a farmer, devised an electric shock device to stop his horse rubbing up against the family car.
And so the electric fence was invented and pastoral farming was revolutionized, with farmers able to manage and control grazing more flexibly.
In 1972 Bill junior joined the family company, the Gallagher Group, which focuses on animal management systems and security systems and employs over 700 people in New Zealand and another 300 offshore.
Under Sir William (he was knighted in 2011), turnover doubled every year from 1972 to 1976. He plays as active role as CEO and travels the world on regular basis - holding seminars, training sessions and field days on many topics, including the containment of animals, security of property and people, agri-business, tariff removals and export issues. He also he spends up to 150 days a year on the road as a roving international salesman.
Sir William dislikes the 'control techniques' of hierarchical, and preferring the coach approach. He has created a work environment that encourages personal empowerment and independent thinking.
Gallagher Group now has an annual turnover of US$100m, and its exports continue to grow. The company is currently focusing on a foray into US with security fencing and access control Sir William has a strong and active commitment to the environment. He is a major sponsor of Rescue Helicopter, Waikato Stadium, Mounted Police, Gallagher Community Swimming Pool, Gallagher Hockey Centre and the Performing Arts centre at Waikato University and is involved with many other civic and community organisations.
Back to Flying Kiwis